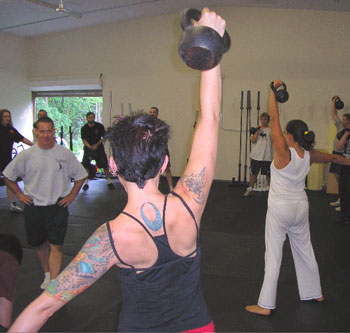 Boston Kettlebell hosts and conducts intense and enjoyable seminars and workshops. Some of these events are wide-ranging seminars which bring in world-class kettlebell athletes like Steve Cotter and Catherine Imes to educate and inspire you. Some are workshops focused on a particular interest area, like joint mobility or advanced kettlebell skills.
Upcoming Boston Kettlebell Events
Check back soon, or email Mandla to be notified of the next event.
Past Boston Kettlebell Events
Steve Cotter and Catherine Imes: Kettlebell Sport, Movement Dynamics and Qigong Seminar
CrossFit Boston, Mission Hill MA
September 23, 2007
World-renowned strength and conditioning expert Steve Cotter taught an all-day, hands-on kettlebell and movement dynamics training course! He was joined by expert instructor and champion kettlebell lifter Catherine Imes. Steve leads the new wave of functional fitness and applied strength training throughout North America, Europe, Asia and Oceania. Attendees learned how to master their movements and to use their bodies more effectively for fitness, sports, well-being and daily living. See flyer.
Top qualities: Expert, Good Value, High Integrity
Mandla takes the time to get to know each of his clients and their particular needs in terms of training and conditioning. He has an outstanding working knowledge of the body and can pinpoint trouble spots and recommend moves to improve. Personally, Mandla's guidance and expertise has helped me to move to the next level in my kettlebell training. He has taken the mystique out of the training and given me not only the support but the tools I need to work with. Additionally Mandla follows up with regular emails on current topics in kettlebell training as well as other health and wellness news items. I have and will continue to recommend Mandla's services at Boston Kettlebell.
Kathleen Aicardi
Personal Trainer/Owner of Transformations Movement Company
May 17, 2007
Boston Kettlebell Basics Plus Workshop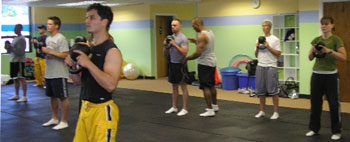 Transformations Movement Company, Dorchester MA
August 18, 2007
Due to the popularity of the previous kettlebell workshops at Transformations, we decided to hold it yet again and add more! Joint Mobility drills and Kettlebell Preparatory Lifts were used to develop and refine technique in the Swing, Clean, Jerk and Snatch. We provided guidelines for skill development in high repetition based lifting. We also worked on perfecting form, maintaining good posture and creating ease in lifting through correct breathing and the usage of appropriate levels of tension. This workshop was 3.5 hours.
Top qualities: Great Results, Personable, Expert
I am a personal trainer as well as a kettlebell enthusiast. Mandla helped me hone my KB skills and iron out small inconsistencies in my own training. I attended one of his flexibility/mobility seminars, and after it, I applied what I learned in my own training and in training my own clients with much success. As a peer, Mandla has integrity, the knowledge, and a commitment to kettlebell training. If interested in KB training one should definitely take advantage of what he has to offer.
Steve Gurtowski
Certified Personal Trainer/Fitness Facility Manager
May 6, 2007
Boston Kettlebell Basics Workshop
Transformations Movement Company, Dorchester MA
June 23 and July 27, 2007
These workshops were introductions to Kettlebell & Joint Mobility Training. We covered a variety of joint mobility drills and preparatory lifts as a lead up to perfecting form in the 'Swing'. We touched on other lifts such as the 'Clean' and 'Jerk' to begin to illustrate the nature of the kettlebell as a work capacity tool.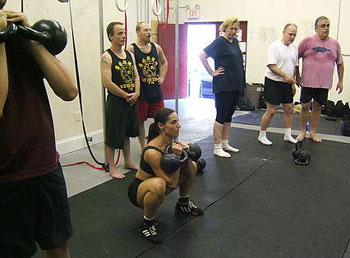 A Strength Training Seminar and Cross-World GS Competition with Steve Cotter
CrossFit Boston, Mission Hill MA
September 9, 2006
See flyer.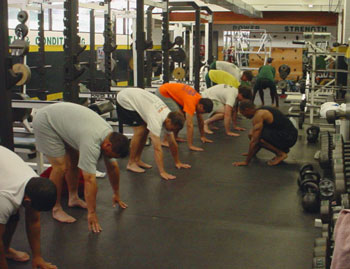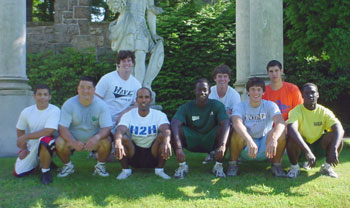 Boston Kettlebell Strength and Conditioning for Football and Wrestling Workshop
Delbarton School, Morristown NJ August 2005